Goforth Artistic Creations is a true family endeavor. We are the husband and wife team of Tim and Jules Goforth and we create some of the most unique, one of a kind, modern fashion tie-dyes today. We only sell what WE make and each piece is original.
The business started out as a therapy for Jules. One of our two sons had an undiagnosed medical condition that had no answers of any kind. That makes it very hard for a mom to find peace in something so indefinite. We were told to go home and hope for the best. Maybe they would out grow it.
After getting home from the Mayo Clinic in Rochester, it was back to regular life. But it was anything but regular. So Jules began to tie-dye, and completely threw herself into the work (she had done RIT dye from the age of 6 with her mom, and never really stopped). Now she was back to experimenting with dye again, as she distracted herself from the anxiety of the medical issue.
As anyone who has ever done tie-dye knows, it is a labor of love. After her first day of working constantly, she slept soundly, which she had not done in months. She woke up the next day and was driven to do it again and then again. Before she knew it, she had accumulated a large number of pieces, which naturally grew into the opportunity to see if people would buy her creations. She began this journey in September 2015 at the world famous First Monday Trade Days in Canton Texas, since we were only 30 minutes away.
As her projects grew, she knew that she could not keep up with demand without help. I (Tim) started tying with her. As we collaborated more, we noticed our sales going up. Our art had become just that; OUR art and it was going to a whole other level. For the next year and a half, I would continue working my regular job and helping Jules with everything from making tie-dye to setting up at local markets and selling. I worked 7 days a week until one day we decided to break out and do life. Our products are a representation of that independent American spirit.
We will strive to earn your business every time you need tie-dye and will make your satisfaction our #1 goal. Every piece is made by us and is an original. We LOVE what we do and want you to LOVE it, too! Shop and enjoy the experience and let us show you what a business committed to excellence feels like.
So, for those who want a true original, make sure it's a Goforth.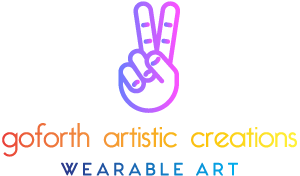 Peace